We are Toshima Annainin Komagome・Sugamo (TAKS).Twelve TAKS members participate under the name of Komagome English Guide Club (KEGC).
We started our activities in 2017. The main activities are as follows.
Among our activities, we guide international students of Toyo University, Teikyo University, Waseda University and Unitas Japanese Language Institute to the First Dream Tour (January), the Cherry Blossom Viewing Festival (March) and the Mochitsuki Festival (November).
We have guided foreign trainees invited by Japan International Cooperation Agency (JICA) to Sugamo Jizo-dori Shopping Street and the Imperial Palace East Garden. In particular, in JICA's "Aging Countermeasures Program" for Southeast Asian countries, JICA requested us to guide the trainees to Sugamo Jizo-dori Shopping Street, which is nicknamed Grandma's Harajuku to witness Japan's aging society first hand.We then exchanged views and opinions. The aging of Southeast Asian countries is progressing rapidly and the discussions we had are praised by the trainees as "very meaningful and helpful".
In collaboration with Professor Morishita of Waseda University and Professor Degawa of Taisho University, we are cooperating with international students of Waseda University on research projects on Sugamo Jizo-dori Shopping Street.  As part of the classes during spring and autumn semesters, we participate and have a dinner party.
 In 2017, we guided 24 high school students from Melbourne, Australia to the Imperial Palace East Garden. High school students who majored in Japanese, visited Japan for their graduation trip.
An American company is involved in the development of robots for the elderly in Japan. They wanted to know what role Japanese seniors want robots to play, and also wanted to know the living conditions of elderly Japanese people. They asked to have a dialogue on the above themes.
The international students and trainees who have been our guests and participated in our tours so far are from following 47 countries / regions.Asia:
China, South Korea, Taiwan, Hong Kong, Laos, Cambodia, Vietnam,   Thailand, Myanmar, Malaysia, Sri Lanka, Indonesia, East Timor.

West Asia / Central Asia:


Kazakhstan, Uzbekistan, Afghanistan,Iraq, Nepal, Bhutan,   Bangladesh.

Oceania:


Australia.

Europe:
UK, Netherlands, Kosovo, Macedonia, Albania.

Africa:
Egypt, Algeria, Morocco, Nigeria, Ghana,Liberia, Sierra Leone,   Kenya, Uganda, Burundi, Tanzania, Zambia, Namibia,zimbabwe.

North, Central and South America:
USA, Mexico, Jamaica, Dominican Republic, Guyana, Belize.

We look forward to welcoming you international visitors to our English guided tour.
enjoyed mochituki with JICA members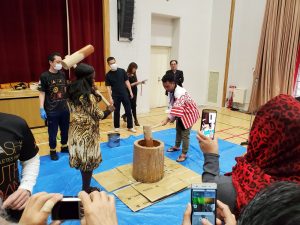 This picture is called "mochitsuki" and one of Japanese traditional ceremonies that take place around the new year.
Invited member are enjoying rice cake making.
ーーーーーーーーーーーーーーーーーーーーーーーーーーーーーーーーー
OnNovember  16th, we showed the Sugamo Jizo shopping street to 10 people from six countries .
They came to Japan with JICA's training program.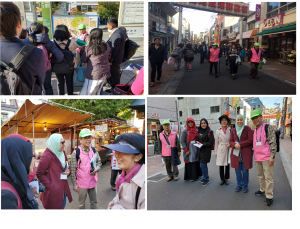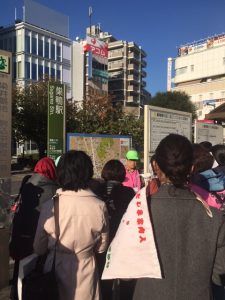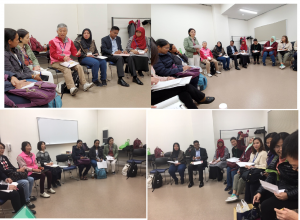 This time,we had an informal talk with them.
They seemed interested in Japanese senior citizens working lively
and volunteering.
Let's meet again some day.
Organized by:    Komagome English Guide Club (KEGC)
C o n t a c t: +81-80-1250-3456 (Mr. F. Yui)